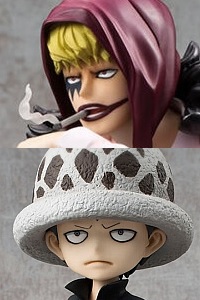 MegaHouse Portrait.Of.Pirates ONE PIECE LIMITED EDITION Corazon & Law PVC Figure
Portrait.Of.Pirates ワンピース"LIMITED EDITION" コラソン&ロー PVC フィギュア
Release Date: January 2023 (2nd Production Run)
MSRP: 22000円 / USD $165.51 / EUR $156.08 / AUD $248.94 / CAD $227.48 (more info)
Law in his young self with Corazon.

Note:
First production run: February 2016, exclusively through MegaTrea Shop, Premium Bandai, Mekke!, Toei Animation Online Shop, and Mugiwara Store (except Toyko ONE PIECE Tower shop).
Second production run exclusively through Premium Bandai, Jump Characters Store, Toei Animation Official Store, Mugiwara Store and Mugiwara Store MINI (Kitty Land Kyoto Shijo Kawaramachi Store).
Related Items (Total: 347)