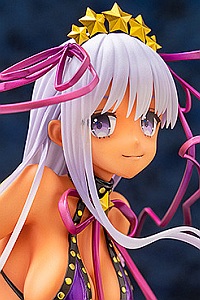 GOOD SMILE COMPANY (GSC) Fate/Grand Order Moon Cancer/BB (Second Ascension) 1/7 PVC Figure
Fate/Grand Order ムーンキャンサー/BB (第二再臨) 1/7 PVC フィギュア
Release Date: November 2021
MSRP: 18800円 / USD $165.53 / EUR $142.25 / AUD $221.37 / CAD $204.54 (more info)
BB-chan in her second ascension, tweaked her spirit origin just for the unending Hawaiian summer!!

Note:
Available exclusively through GSC Online Shop and AmiAmi.
Originally announced by AQUAMARINE in May 2020 for release in Winter 2020 through AmiAmi and AQUAMARINE Online Store, GSC took over development and production with AQUAMARINE went bankrupt in 2020.
Related Items (Total: 271)